After the Charlottesville incident, people looked to President Trump to say something about it. Many analysts say he failed a moral test by mentioning that there was horrible behavior, "on many sides." Supporters were quick to point out that Antifa has a track record of unprovoked violence against those they disagree with.
After the initial negative reaction to the "many sides" comment, the White House released a softened statement on Monday. However, in a press conference the very next day, Trump reverted to the original sentiment and doubled down on it. He pointed out that there were many good people in the "Unite the Right" crowd, who were merely protesting what they saw as a wrongful removal of an historical statue.
Here, I'd like to take President Trump at his word, and give a reasonable person's look at what that good person might have seen in Charlottesville.
Imagine you're a good person in Charlottesville. One of those "good people" in the torchlight march. You're not a bigot, you're not a Nazi, you don't hate blacks or jews, you're just a conservative man that happens to be white with a respect for history that makes you righteously angry that the Robert E. Lee statue is being removed. You feel that, regardless of what Lee stood for, his life left an impact on history that is more than worthy of being commemorated by the statue. You feel that those who want to remove the statue are trying to erase history. You may even be OK with the idea of the statue being moved to a different location, perhaps a museum, but you don't want to see it simply torn down. So you decide to go to this march. You've got your tiki torch and you're happy to see that there's a sizable group of several dozen or even a couple hundred other people.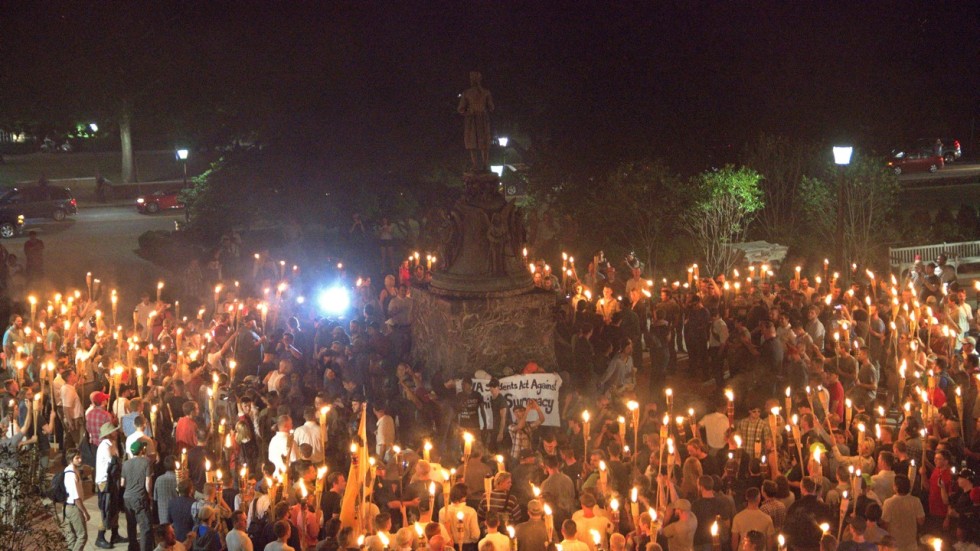 Milling about, you notice that there are a couple people with Confederate battle flags, the stars and bars. Maybe you recognize it as an homage to Southern heritage rather than as a hate symbol, but you are also aware that some people aren't too keen on the flag itself. If you're the type of person to get outraged about a Robert E. Lee statue being removed, you probably don't care that some liberal snowflakes think it's a racist flag. Fuck those SJWs, amirite?
Then you see someone in a shirt that has the fourteen words on it, or a KKK logo. At this point, do you start to question the march you've joined for good reasons? You might even see someone with a Nazi flag. Are you worried about the lot that you've thrown in with, or do you think, well, we disagree on some things, but we're united by a genuine respect for a historical figure and the statue dedicated to his memory?
The march begins. Your interest in preserving the statue are purely historical, so a few of the chants confuse you. "You will not replace us!" for example, seems unrelated to the cause that you've come to champion. "Blood and soil," doesn't make sense either, but you remember that it was a chant favored by Nazis. By the time you hear, "Jews will not replace us!" you're past the point of surprise. Still, you're one of the good people, right? Because even though you're marching, demonstrating, and even chanting with white supremacists and neo-Nazis, you're not actually one of them.
At what point during this do you go from being a legitimately concerned citizen who sincerely and non-racistly wanted to preserve history, to being a white supremacist, determined to fight for the establishment of an ethno-state?
It seems to me that the "good people" did a piss poor job of making their cause the main reason for organizing when they effectively let the hate groups take over with their displays and their chants. Think about who you march with.