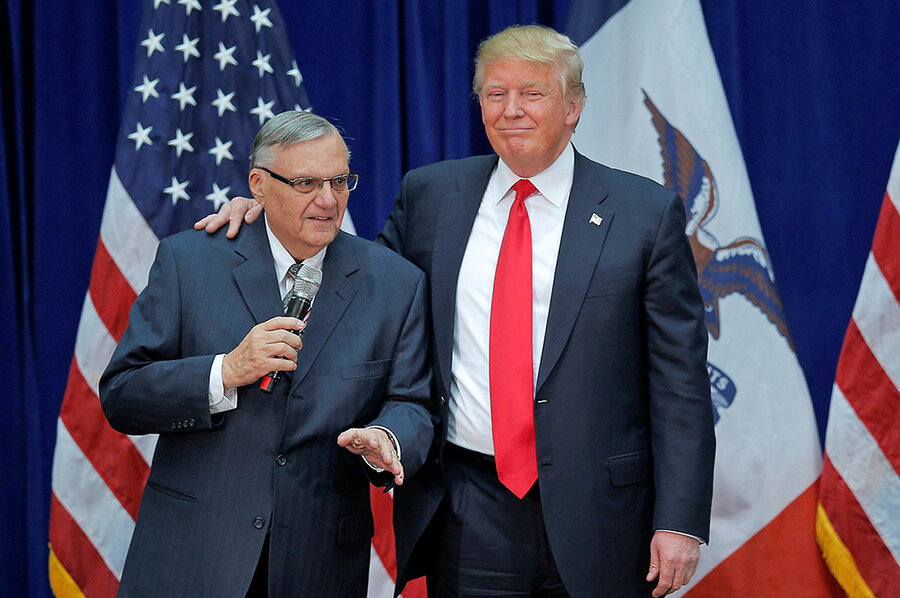 With the Arpaio pardon, Trump got major exposure. Bigger than normal, because of everyone watching the storm. He said that this was by design. When this happened, the response was vocal and widespread from his critics. By releasing the news on Friday, critics had the whole weekend to be outraged about it and spread memes about what an awful person Arpaio is and how the pardon is bullshit and on and on. It's the sort of news that you don't have to be rabidly anti-Trump to have a distaste for. This was also by design.
Then Monday Trump defends himself in a press conference. Again, high visibility seems to be part of the strategy. In the press conference, he mentioned pardons granted by Presidents Obama and Clinton that a reasonable person may have found questionable. In the case of Clinton's pardons, they look especially suspect. People still remember celebrating the commutation of Chelsea Manning's sentence, so that might not have landed as well for Trump.
Sidebar: 2 things about this argument:
1. This is the old, "your guy did this, so it's ok that my guy did that" thing that facebook political debates are made of. the talking points go no further than to point out something kind of like the current issue having been done by the other party. Emphasis on kind of like because these counters are made with no thought of the context. For example, defending any president's perceived or actual manipulation of the media by saying Lincoln did that and worse.
2. Why is POTUS making arguments this way to the public? Obviously, because it lends itself very well to vids with banners at the top and bottom on facebook saying "TRUMP DESTROYS JOURNALIST ON ARPAIO PARDON." In other words, they play well to the rubes. BTW these arguments made me think again about what to make of this pardon, so I'm included here. However, I'm sure there's more to it than this tit for tat bullshit.
This whole play, the timing of the announcement, the weekend of letting opponents spin their wheels, and the counterexamples on Monday, was kind of brilliant in the Scott Adams, Trump-as-master-persuader-playing-5D-Connect-Four sense. Think about how this plays on your Facebook feed. Friday, the pardon drops, anti-Trumpers lose their minds. Memes about what a shit Arpaio is flood the social mediaverse. Everyone thinks this is a bad thing for Trump to have done.  Two examples: 
The whole time, Trump supporters – ostensibly still a significant portion of the population – are seeing these memes and maybe holding their tongues. Maybe a few of the older folks in the crowd share stories of being upset at a Clinton pardon they hated or something like that. For the most part, anti-Trump people think the pardon is a complete disaster and no one can imagine how Trump will recover from this misstep.
Then Monday comes, and the presser. Trump delivers that old chestnut of bullshit political arguments, cherished by all who refuse to examine events except in contrast to how "the other side" did this or that. Supporters cheer. Antis, for the most part, look at their shoes, not quite sure what to make of these counterpoints.
And there it is. If you stop looking into this topic you probably think that Trump wasn't so wrong to pardon the former Sheriff, and that the douchebag liberals who spent the weekend bashing Trump for this have no idea about historical context.
UPDATE: It looks like the comparisons were not so apt. The biggest differences appear to be:
1. While the other questionable pardons were for people who had already served some time, Arpaio hasn't yet, so the pardon is not merely saying he's paid what he owes already, this pardon is a shield against any punishment whatever.
2. Arpaio defied a court order, which is what led to his conviction. By pardoning him, Trump is siding against the judge that issued it and the rule of law in general.
UPDATE 2: Ben Shapiro had some comments to support the pardon, in view of the above two points, or at least the second one, and it sounds reasonable. More to think about here.
This looks like another one of those issues that both sides will tally for their side without considering the very real counterpoints to their talking points. I can see this being one of the many "reasons to impeach Trump" on lists that are probably already circulating the social mediasphere. Conversely, it will also probably feature on lists of "great accomplishments" that supporters will be sharing around in the months and years ahead. The truth is clearly somewhere in between.